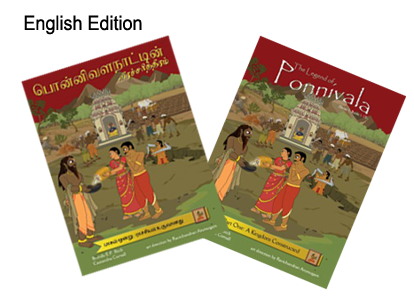 To Order A Graphic Novel Book Set:
NEW LOWER PRICE 
ONLY $40 US or $50 Canadian
900 Pages Full Color 2 Volume Set
For SET OF TWO BOOKS (in either language)
The Legend of Ponnivala
What will you find Inside these two volumes?  What Is The Story?
In Part One the goddess Parvati creates nine farmer-brothers to cultivate the land. During a severe drought, the brothers and their wives are forced to seek the aid of the Chola King, who grants them land in Ponnivala. The eldest accidentally kills a herd of sacred cows, and his family and land are cursed by Lord Shiva to suffer seven generations of barrenness. The old farmer and his wife are granted a magical baby as relief from this terrible curse, but they die when the boy is just five years old. Orphaned and homeless, he finds refuge as a servant in the home of a wealthy farming family. Only when this boy has grown does Lord Vishnu reveal to him that the young sister of his masters is his rightful bride, and that he is the kingdom of Ponnivala's true heir. When the kingdom has been reclaimed, the new king and his wise wife undertake a decades-long journey to the Council Chamber of Lord Shiva. They plan to beg his pardon and lift the family curse. This wish is granted, but along the way a new threat to the family and kingdom is revealed. Several seeds of destruction have been planted that will threaten the very existence of the beautiful land of Ponnivala in the next generation.
In Part Two the king of Ponnivala and his courageous queen are blessed with the birth of three magical children: the twin heroes Ponnar and Shankar, plus a chaste and clairvoyant sister Tangal. But unbeknownst to them, a murderous plot by their rival clansmen causes Lord Vishnu to persuade his sister, the family goddess Celatta, to spirit the two boys into hiding. With no male heirs, the king and queen are sent into exile for a second time.  Five years later, Celatta reveals the two sons to the king and queen, and the family returns to their beloved lands. When the boys come of age and their parents pass away, they become the new hero-kings of Ponnivala. Seeking to right the wrongs of the past, and to glorify their heritage via heroic deeds, the brave boys seek out adventure, avenging their forebears and winning family independence from the Chola overlord.  But this rule is interrupted when the twins' younger sister requests a special gift-a gift which raises the ire of the neighbouring hunters, and brings them into direct confrontation with the promised agent of their destruction: the giant boar Komban. Claiming victory over Komban, however, only serves to expand the war with the hunters, until the twin kings, their sister, and their loyal servant meet the fate ordained by Lord Shiva at their creation.