The Back Story: Finding The Legend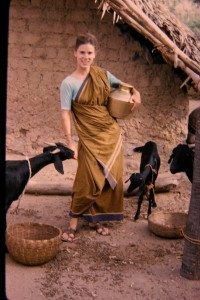 Dr. Brenda Beck has invested nearly fifty years in the study of Tamil culture and society, making the focus of much of her research a folk tale she happened upon quite by accident while doing fieldwork in India in 1964-1966. Dr. Beck's mission has been to capture this localized epic story; known locally as the Annanmar Kathai; and bring it to the world with new insight, new life, and new technology.
Dr. Beck's love affair with India began as a teenager when, in 1954, she set out with her family on a trek that would take them from Beirut, across Turkey, Iran, Afghanistan, Pakistan, and finally into the South of India. A decade later, as a doctoral student at Oxford's Institute of Social Anthropology (Somerville College), Dr. Beck elected to return to South India to immerse herself in Tamil culture. Settling in the village of Olappalayam in early 1965, she began what she thought would be a routine cultural documentation project centred on social customs. When she found out that story telling was the preferred form of entertainment in the life of the village, however, her adventure brought unexpected discoveries.
When she asked villagers to name their favourite tales, the unanimous response was "The Elder Brothers' Story" (Annanmar Kathai in Tamil). This seemed obvious to the locals, and the village singers expressed no hesitation when a performance was requested. But that choice was no small affair. Nobody told her it would take eighteen evenings to get through this long, long legend! The best storyteller in the area was called in to give the finest performance possible. And the young anthropologist, armed with her trusty tape recorder, was ready to capture the magic.
The resulting collection of audio tapes (44 hours' worth!), coupled with her transcription of the bard's later prose dictation of the same tale, was part of the research that led to her successfully completing her Oxon. doctorate in 1968.
A Folk Legend Reborn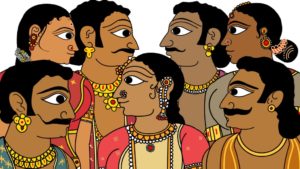 Fast-forward to 2008. Following a lifetime of research and publication, picking apart the many intricate layers of the story, Dr. Beck decided that the tale she had brought back from India so many years ago needed to be shared with the world. In June of 2008, under the banner of the newly-formed Sophia Hilton Foundation of Canada, production began on an animated version of what is now called, in English, The Legend of Ponnivala.
It was no easy task. First the story had to be translated into English. Then it had to be turned into a script. Then it required countless hours of painstaking design, drawing, animation, audio recording, and all the other tasks that go into producing a wholly original animated series. Under the technical direction of Dr. Beck's partner, Eric Harris, and with the artistic skills of Indian-born animation director Ravichandran Arumugam, the vision of the project as a thirteen-hour animated film took flight. This double TV series — produced using Toon Boom Animate Pro — now presents, in twenty-six episodes, the whole story of three generations of the Ponnivala kingdom. It is an epic tale of medieval Kongunadu, told with stunning digital images and breathtaking drama. It is truly a legendary tale, reborn for a new age.