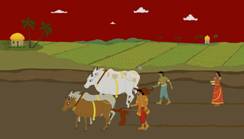 Episode # 1 In The Beginning PLOT LINE
1-a) The Goddess Has A Grand Vision And Creates Some Farmers
1-b) The Farmers' Hard Work Wins Them A King's Reward
1-c) The King Lays Out The Artisans' And Farmers' Differing Roles In A Covenant
1-d) The Eldest Son Makes A Mistake. Lord Shiva Curses The Family To Barrenness
1-e) Lord Shiva Relents And Grants The Family The Gift of A Child They Can Adopt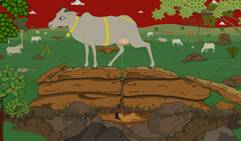 Episode # 2 A Young Orphan PLOT LINE
2-a) A Farmer Finds A Babe In The Fields!
2-b) This Child Is Adapted And Raised Lovingly
2-c) The Farmer-Parents Die When Their Time Becomes Due
2-d) The Young Boy, Now Five Years Old, Is Promised Protection By The Local King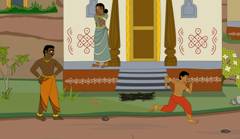 Episode # 3 A Long Exile PLOT LINE
3-a) The Clansmen Of An Orphan See Him As A Burden & Mistreat Him
3-b) The Boy Runs Away, Is Exploited, And Runs Some More
3-c) He Helps A Farmer Cut Brush But Again He Senses Conflict and Runs
3-d) Finally The Little Hero Sees A Fine Temple Tower. Joy Fills His Heart And He Believes That All Will Turn Out Well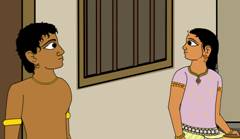 Episode # 4 A Love Match PLOT LINE
4-a) A Young Orphan Finds Refuge With A Kind Family And Becomes Their Shepherd
4-b) The Boy Falls In Love With His Bosses' Little Sister, A Girl Whose Social Rank Is Much Too High
4-c) The Boy's Real Status As A Potential Son-In-Law Is Revealed To Him By A God
4-d) The Hero Summons His Courage, He Will Ask For The Hand Of His Beloved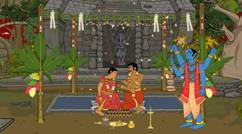 Episode # 5 A Magical Marriage PLOT LINE
5-a) A Boy In Love Decides To Ask For The Girl's Hand But Looses His Confidence
5-b) Eventually He Poses His Request But The Response Is A Sound Beating
5-c) The Hero-Lover Tries A Third Time And Now Succeeds With God's Backing
5-d) An Unconventional Marriage Is Conducted In A Forest
5-e) The Newly-Weds Are Exiled By The Bride's Angry Parents. Summoning Their Courage, They Set Off Bravely For The Hero's Ancestral Lands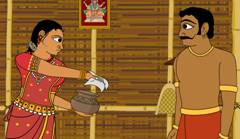 Episode # 6 Roasted Seeds PLOT LINE
6-a) The Newly-Wed Hero Finds His Old Family Homestead
6-b) Rival Clansmen Dispute His Claim To The Family's Ancestral Lands
6-d) The Hero's Insightful Wife Notices The Trick And Refuses To Sow These Grains
6-e) Lord Vishnu Volunteers To Help The Couple And Now Their First Crop Gets Planted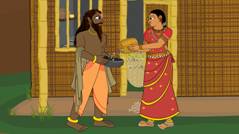 Episode # 7 A Thousand Beggars PLOT LINE
7-a) The Hero's Jealous Clansmen Try To Trample His Crop With Their Cattle
7-b) Lord Vishnu Protects The Family's Plants. The Wife prays And Soon This Devout Lady Finds Magical Jewels Hidden Inside Each Grain Head
7-c) The Couple Harvest Bountiful Baskets of Jewels
7-d) The Saintly Wife Gives Most Of This New Wealth To Beggars But Lord Vishnu Then Replenishes All And The Household Is Set To Flourish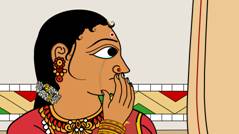 Episode # 8 A Cruel Curse PLOT LINE
8-a) A King And Queen Build A Wondrous Palace
8-b) There Is A Grand Coronation Ceremony
8-c) But Soon The Couple Discover A Tragic Curse Hangs Over Them: The Queen Is Barren
8-d) The Hero's Wife Has An Idea. She Makes A Plan To Find Fresh Joy And Revitalize Herself By Visiting Her Brothers' Children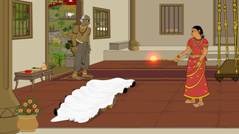 Episode # 9 The Counter Curse PLOT LINE
9-a) A Childless Sister Is Spotted By Her Brothers' Wives And Called A Barren "Witch"
9-b) Because Of This Misfortune The Barren Woman Is Refused Entry To Her Natal Home
9-c) In Response The Brave And Chaste Heroine Curses Her Brothers and (Temporarily) Kills Their Children
9-d) The Sad Heroine Goes To A Kali Temple, Where She Finds Solace And Advice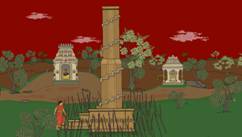 Episode # 10 Pillar Of Destruction PLOT LINE
10-a) Finding Their Many Children Dead Due To Their Sister's Curse, Two Brothers Beg Forgiveness For Having Unjustly Beaten Her
10-b) The Semi-Divine Woman, Having Made Her Point, Miraculously Revives All The Kids
10-c) The Heroine Returns Home But Is Banished By Her Angry Husband For Disobedience
10-d) The Queen Contemplates Suicide But Is Saved From Death By Some Sweet Words From Lord Vishnu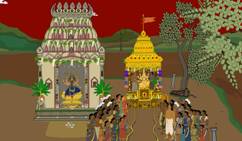 Episode # 11 A Pilgrim's Journey PLOT LINE
11-a) A King And Queen, Hoping To Obtain A Child, Undertake Good Works
11-b) Their Rival Clansmen Cleverly Plot To Kill The Couple Using A Feigned Temple Chariot Accident, But Happily They Escape
11-c) The Couple Continue With Their Mutual Vows To Help Their Community Prosper
11-d) Still Childless, Lord Vishnu Recommends A Pilgrimage. The King And Queen Set Off With High Hopes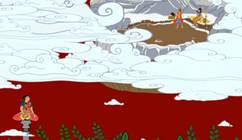 Episode # 12 The Gates of Heaven PLOT LINE
12-a) The King and Queen Set Out On A Pilgrimage. Many In The Kingdom Ask Them To Bring Back God's Blessings
12-b) There Are Many Challenges Along The Pilgrims' Path
12-c) Eventually The King Drops Into a Deep Sleep Under A Tree, But The Queen Continues On
12-d) The Queen Reaches The Gates Of Heaven. She Begins A Long Period Of Prayer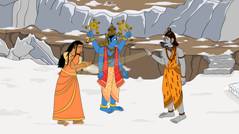 Episode # 13 The Book Of Fate PLOT LINE
13-a) The Queen Of Ponnivala Is At The Gates of Heaven, Deep In Prayer
13-b) Lord Siva Tests Her Devotion Repeatedly
13-c) Finally A Second God, Lord Vishnu, Intervenes And Tries To Help
13-d) Vishnu Approaches Lord Siva And He Finally Tells Her He Is About To Give Her The Gift Of Children. The Queen's Prayers Have Been Answered At Last!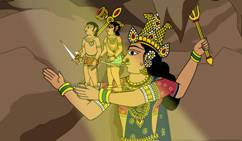 Episode # 14 The Temple Secret PLOT LINE
14-a A Local Midwife Is Bribed By Greedy Clansmen
14-b Despite Her Efforts To Kill The Queen's Children Two Magical Heroes Are Born!
14-c The Local Goddess Hides These Two Boys In Her Temple Before They Are Seen
14-c The Queen Mother Laments. She Believes Her Only Child Is A Female!
14-d The Twin Heroes Are Raised Secretly, By The Goddess. Fed Tiger's Milk, The Boys Will Soon Become Mighty Heroes!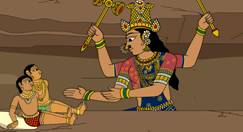 Episode # 15 The Truth Unveiled PLOT LINE
15-a A Royal Couple Have No Sons To Inherit The Land And Are Forced Into Exile
15-b This Wandering Family Finds Refuge in a Horse Stable
15-c The Queen Must Now Do Menial Labour To Support Her Family
15-d But Secretly, Two Hidden Sons Await. These Boys Learn About Their Parents From Their Caretaker. They Ask To Go Home. The Goddess Consents To Take Them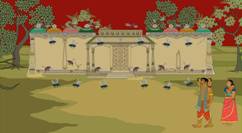 Episode # 16 The Home-Coming PLOT LINE
16-a A Goddess Visits A King And Queen Living In Exile With Their Only Daughter
16-b She Brings With Her Two Sons. The Queen Asks For Proof of The Boys' Legitimacy
16-c Lord Vishnu Provides Proof Through the Display Of Magical Milk. The Royal Couple Then Return From Exile With Three Children Instead of One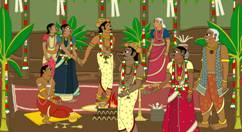 Episode # 17 Chastity Forever PLOT LINE
17-a Two Brothers Under Go A Very Strange Wedding In Which They Refuse To Touch Their Brides. After The Wedding These Two Hapless Women Are Locked Away And Must Spin Forever
17-b The Bridegrooms' Parents Prepare For Death And Make Their Last Wishes Known
17-c The Two Sons Ignore Their Parents' Request To Rule The Family Kingdom In Peace. Renouncing Their wives And Family Life, TheyChoose To Become Warriors.
Episode # 18 An Overlord Is Angered PLOT LINE
18-a Two Brothers Decide To Take Revenge On Their Clansmen By Attacking Their School-age Sons
18-b These School Boys Are Humiliated By The Heroes And Their Families Go Into Exile
18-c But The Homeless Families Find A Cleaver Revenge. They Enlist The Backing Of A Nearby King Who Demand Tribute From The Two Aggressors. The Elder Brother Agrees To Make The Payment And A Truce Is Reached.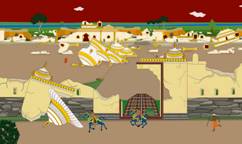 Episode # 19 Independence Won PLOT LINE
19-a An Elder Brother Takes Tribute To A King But Is Thrown In Jail None The Less!
19-b A Sister's Dream Reveals Why This Hero Does Not Return Home. A Younger Brother Is Sent To The Rescue
19-c The Wicked Ruler Now Attempts Many Kinds of Treachery, Hoping To Kill The Upstarts
19-d Finally Lord Vishnu Rescues Both Heroes From A Lonely Mountain Top
19-e In A Battle Royal The Twin Heroes Kill The King And Win Their Family's Freedom.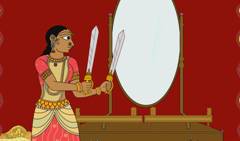 Episode # 20 Two Swords Blessed PLOT LINE
20-c A Lonely Sister Asks Her Brothers To Fetch Her Two Pet Birds
20-b An Assistant Makes A Treacherous Theft That Yields Iron For Making A Fine Bird Net
20-c Several Skilled Artisans Make a Fine Bird-Hunting Net and Also A Golden Bird Cage
20-d The Sister Then Blesses Her Brothers' Two Swords, Despite Some Sincere Reservations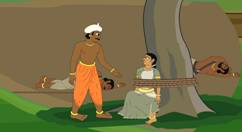 Episode # 21 A Kidnapping Spree PLOT LINE
21-b Two Heroes Pass through Several Magical Barriers, Killing many Tigers
21-b They Reach A Special Tree and Capture One Sacred Female Parrot That Will Become A Pet For Their Sister.. But The Parrot's Beloved Partner Escapes
21-c The Bird-Husband Flies to A Hunters' Palace And Protests The Capture of His Wife. The Hunters Take Revenge By Kidnapping The Heroes' Palace Maid. But With The Help Of A Magical Assistant The Maid Is Safely Returned to The Heroes Palace.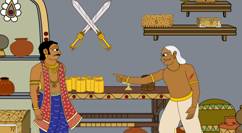 Episode # 22 A New Challenger PLOT LINE
22-a An Artisan Develops a Secret Plan To Make His Family Wealthy
22-b But Thru Greed He Makes a Mistake While Planning To Steal The Heroes' Wealth. He Is Cut By The Very Sword He Tries To Grab
22-c Still Conniving, The Artisan Tries To Accuse The Elder Hero Of Wrong Doing. He Demands A Truth Test And The Challenge Set Is Dangerous. But The Hero's Honesty Is Finally Rewarded With Lord Vishnu's Help!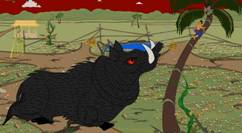 Episode # 23 The Enemy Confronted PLOT LINE
23-a A Huge Wild Boar Destroys Two Heroic Farmers' Fine Crops
23-b Next The Same Beast Sends A War Challenge To The Twin Kings
23-c Their Sister Foresees Disaster In a Dream But Fears To Speak Out
23-d The Heroes Are Determined To Fight The Boar And Prepare For The Hunt. Ritual Preparations Are Made. The Sound Of A Great War Drum Is Heard By All.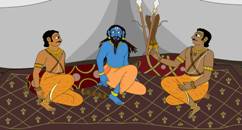 Episode # 24 A Curse Revealed PLOT LINE
24-a Two Heroes Dress For War And Their Fighting Assistants Are Summoned
24-b But Forgotten In This Call To War, One Very Angry Small Dog Sickens The Younger Hero With A Powerful Curse
24-c Because This Man Can No Longer Fight, An Assistant Offers To Lead The Hunt
24-d There Is A Wartime Disaster and All The Heroes' Support Men Are Lost. But Then Lord Vishnu Reveals The Cause Of Their Terrible Weakness. They Can Still Win If They First Apologize To The Little Dog.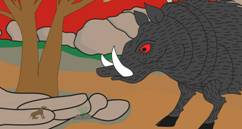 Episode # 25 The Great Sacrifice PLOT LINE
25-a A Little Female Dog Joins In A Fearful Boar Hunt And Attacks That Huge Beast By Itself! But Then The Tribals, Who Ally Themselves With That Boar,… Also Attack!
25-b There Is War. But Before Long Lord Vishnu Reveals That The Entire Struggle Is Of His Making… All Is A Divine Illusion Intended To Test The Heroes' Courage.
25-c The Two Heroic Brothers Then Submit, Sacrificing Their Own Lives To God's Greater Will.
25-d Lord Vishnu Takes Both Heroes' Spirits Up To Lord Siva's Heavenly Counsel Chambers, Where They Attain Bliss At His Feet.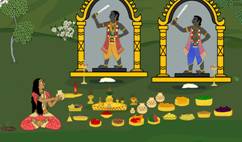 Episode # 26 An Epoch Ends PLOT LINE
26-a When Two Valiant heroes Die Their Sister Reacts With Anger. She Can Read The Telltale Signs They Left When they Went To War.
26-b Renouncing Normal Palace Life This Young Girl Now Becomes a Wanderer
26-c Eventually She Finds Her Brothers' Bodies And Briefly Revives Them. They Explain That Their Deaths Will Allow Their Kingship To Pass On To Others.
26-d The Sister Establishes a Shrine In Their Names And Sets Out Offerings. She Rises To Heaven In A Chariot While Her Brothers' Spirits Magically Fly To Lord Siva's Side
26-e Blessings Are Showered On All, Especially Those Who Have Listened To The Story.